Data trusted by leading financial players.
Where is Insurely available?
Insurely is currently available in Sweden, Denmark, Norway, Estonia, France, and the UK. We are continuously expanding our services, so please contact us if you have questions about our market coverage.
Contact us about market availability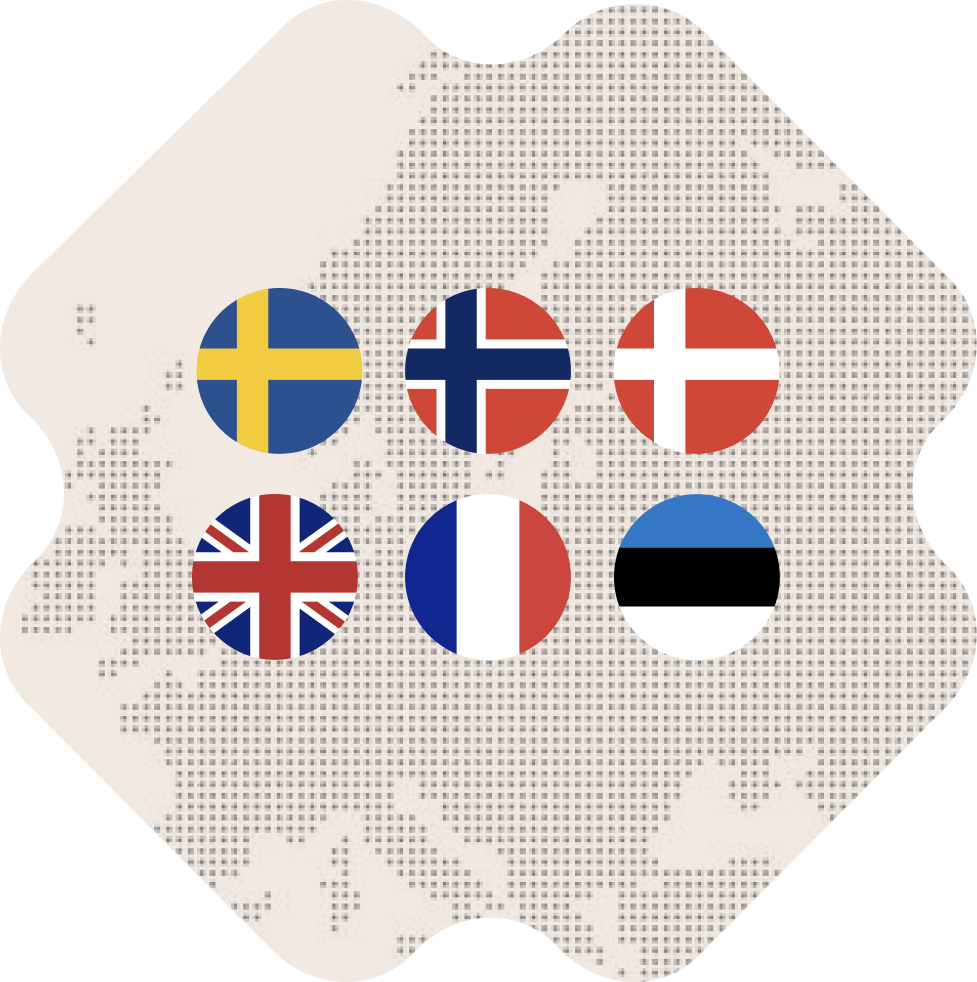 The lines of business we collect data from.
We collect data from 28 lines of business across many different insurance providers. We're always expanding our integrations and the insurance data we collect. Here are the ones you can access right now:
Vehicle.

boat
car
caravan
moped
motorcycle
motorhome
trailer

Home.

condo
cottage
farm
trailer
villa
The data points we collect.
The data collected from each policy differ a bit per market. In general, we collect both level 1 and level 2 data from all policies. In total, we can provide you with more than 1,500 data points.
Level 1 data.

Level 1 data refers to the basic information about an insurance policy. For example, this includes;



Policy name
Policy holder name
Policy holder address
Insurance provider
Insurance number
Monthly premium
Yearly premium
Start date
Renewal date
Coverage

Level 2 data.

Level 2 data refers to the parameters that belong to each policy, such as addons and what is covered by each insurance policy. For example, this includes;



Fire
Crisis
Flooding
Water leakage
Assault
Moving protection
Accident
Theft
Lock change
How is the data collected?
Data collection methods.

We combine different technologies to provide you with the most accurate data in the shortest amount of time. Mainly we use open APIs, web-based APIs, or HTML or PDF parsing. We try to collect as much data as possible through APIs, as it is more reliable and accurate. In the cases that that's not possible, we will parse HTML or PDFs from the consumer's account to retrieve the data.

The data collection process.

The first step in the collection process is that the customer authorizes Insurely to collect the data on their behalf. We then collect the data, normalize it, and return it to the third party, where our product is used. The data can then be used by the third party and the consumer, making insurance or pension more transparent and understandable.
How safe is the data collection?
Customer authentication.

Data security is very important to us, and our data is always safe to collect and use. We do not collect any data without explicit consent from the consumer, which can be given in several ways. In single sign on markets, we use digital authentication for consumers (for example through BankID in Sweden). In non-single sign on markets, consumers authenticate themselves with the username and password to their insurance provider.

Data protection.

Data is always encrypted during the collection and normalization processes and on the return to the third party. And as a standard, we delete all data within 14 days.
The new standard in insurance and pension data.
Consumers want to share their data if they get better experiences in return.
250,000+

Individual consumers that have shared their insurance and pension data through Insurely in the past 6 months.

1,000,000+

The total amount of insurance policies and pension plans that have been collected and shared through Insurely in the past 6 months.

1,500+

Data points processed daily.
The API process
With an added tool in your application as part of "My pages", the customer can download current data and collect all their insurance regardless of the insurance provider, using the following process:
Insurance data is requested from your application on behalf of the customer through a power of attorney (PoA). The customer gives consent and approves the terms and conditions.
Insurely connects to the insurer with user authentication (using single sign-on or non-single sign-on).
Raw, unprocessed insurance data is sent to Insurely (more specifically, to our API engine).
The data is returned to you in a structured format.
Now, the customer can use their insurance data. All data or just a few data points can be used in your application to auto-fill data and compare coverage or price.