Increase relevance and optimize sales.
Grow your business through the power of open insurance and transform online and offline insurance sales through our easy-to-use products. Drive customer loyalty and retention through data-driven insights and offerings that make sense for your customers.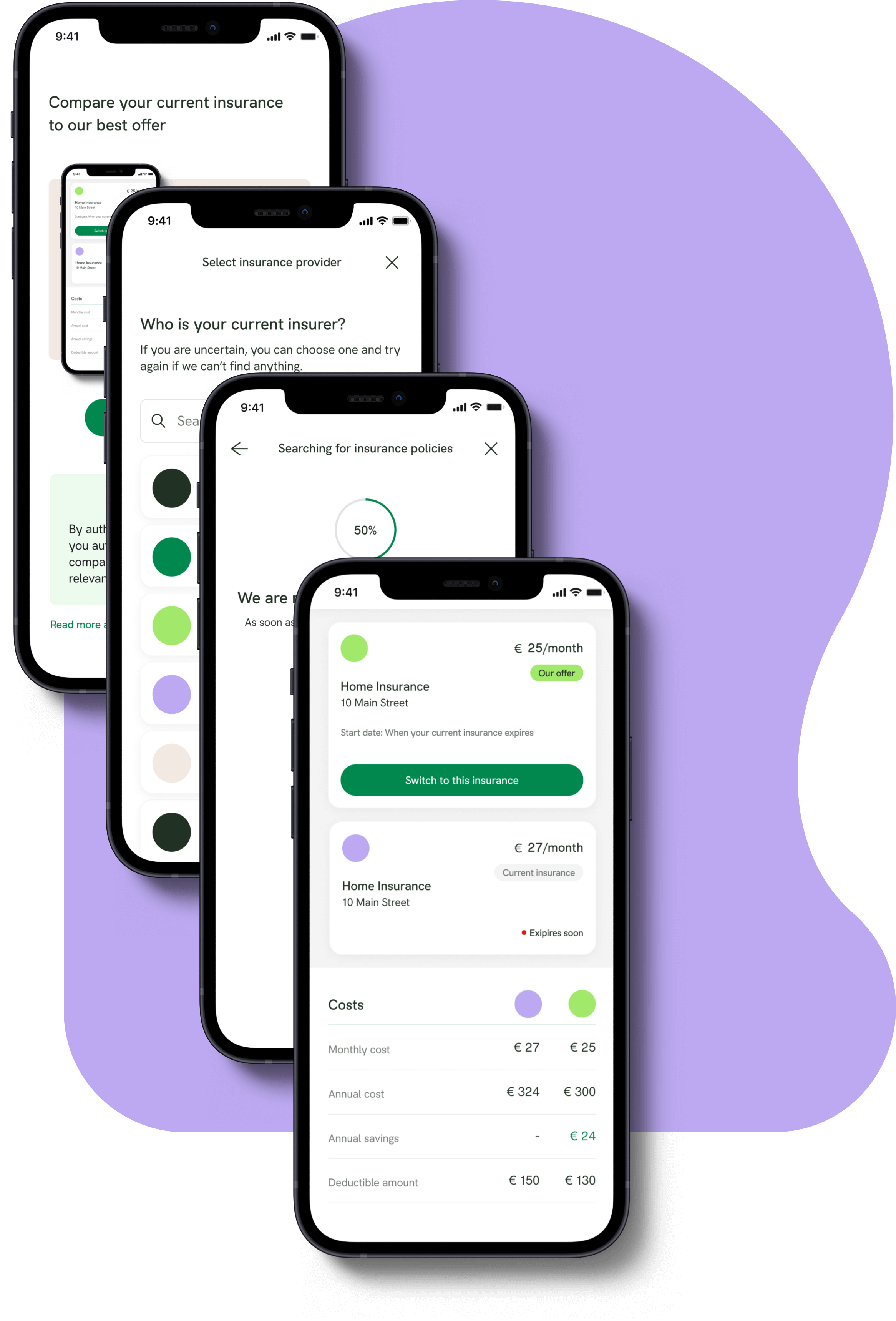 Boost your insurance sales process.
Make it seamless

With open insurance data, you can offer an insurance onboarding process that is friction-free. By letting your customers import data from their current insurance policy, 90% of the required fields in your checkout flow can be filled automatically. That means less hassle and fewer decisions for your customers, whether it's about finding expiration dates or mileage, leading to less churn and more sales.

Empower your customers

Give your customers insight into their current insurance and let them create an accessible and personalized experience within your app. We use the power of open insurance to create win-win solutions for the insurance industry.

Harness the power of data.

Grow your business with the data flow generated. Using any of Insurely's products will give you a detailed understanding of your customers. Whether your strategy is to utilize data in pricing, marketing, or automation - we're here to help
Reach your targets.
Increased conversion in digital channels

Using our products, insurers consistently increase their conversion rates in their customers digital purchase journey. Comparing insurance policies can boost conversions by 30%, while automatic filling of important information can reduce drop offs by 50%.

Boost in offline sales

With our sales support tool, insurance companies increase efficiency in their direct customer interactions primarily over the phone and in physical meetings. Results include up to a 50% reduction in time per sales call and a 30% increase in conversion rates due to better customer understanding.

Understanding of your customers

With the data collected from our products, insurers get unique knowledge of their customers. For example, insurers can tune their products based on popular add-ons as detected by the incoming data flow.
Use cases.
Insurance Overview

Empower customers to better understand their insurance situation. Notify them of renewal dates, gaps in coverage, or more suitable offerings by leveraging relevant insurance data. Increase awareness through relevant and timely insights.

Learn more

Compare & Switch

Let your customers compare their current insurance policies directly with your offerings. This use case allows for detailed comparisons of coverage, discounts, and price.

Learn more

Pension Overview

Let your customers collect their occupational pension and get an overview of their portfolio -including fees, in your interface. Get actionable insights on your pension schemes; find out if they are transferable, and gather them all in one place.

Learn more

Pension Transfer

Let your customers collect, and initiate transfer requests for their occupational pensions directly in your digital interface.

Learn more